Projects
Addressing Climate Change in the Arctic: Norman Wells Prepares for an Uncertain Future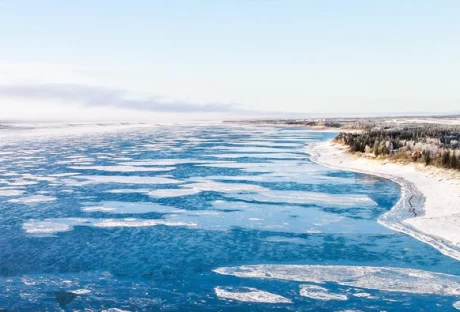 Client: Town of Norman Wells
Location: Normal Wells, NWT
For many of us, the steady stream of climate change reports in our news feeds feel far removed from our daily lives. But, for communities in the far north such as the town of Norman Wells, these reports are becoming a reality that cannot be ignored.
Located along the banks of the Mackenzie River, this remote community has found itself contending with frequent seasonal flooding and a storm-sewer infrastructure that was no longer able to keep up with the rapid shifts in precipitation, temperature, snow-pack, and melting permafrost.
Radloff, in partnership with Core6 Environmental, worked with the town to develop a long term stormwater management design for the South Residential Area that would address the flooding issues caused by summer precipitation and the spring melt such as water accumulation in low-lying areas and damage to the road structures & surfaces.
Following the assessment the town has been using the design to proactively prepare for an uncertain future.
https://normanwells.com/

CBC.ca: "It is far worse than I thought" - NWT Communities Downriver Brace for Flooding
---
---